January 7, 2014 in Michael's Blog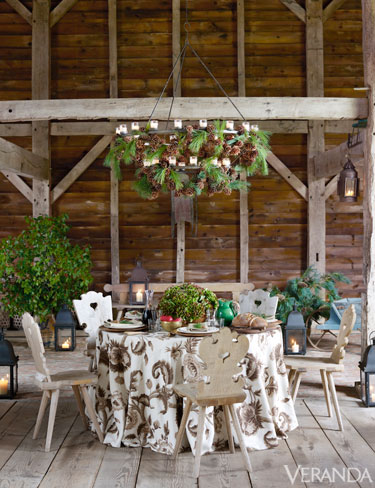 Aerin Lauder is one incredible talent. The granddaughter of Cosmetic Great Estee Lauder, Aerin's been a friend of The Bridgehampton Florist since she was a very young girl. Now, Aerin has launched her own luxury Home Décor and Accessories Brand. Aerin has the most amazing style I've ever seen — well except perhaps for her mother's. So you can imagine how pleased we were to have been asked to participate in a photo shoot for Veranda Magazine featuring Aerin's unique perspective. It was great fun to delve into Aerin's vast collection of containers and 'objects' that she has collected over time.
The Veranda article featured a New Year's luncheon in her family's barn. Rustic was the look Aerin wanted to capture. It was a perfect match for the table cloth, wonderful wood chargers and china — all from the new home collection. By using evergreens, berries, pinecones and nuts, we gave Aerin the feeling she was after. I love how it turned out. More importantly she loved it. Take a look at the magazine on the news stands and also on-line. And make sure to visit Aerin's own website for great ideas from Aerin on everything from entertaining, to decorating, to travel to great restaurants.
I hope you'll enjoy the photos and get some great ideas to use in your own home.