Even though The Bridgehampton Florist is bang in the middle of Main Street in Bridgehampton,  our heart is also in Sag Harbor where we've lived for years and years.  We were deeply saddened when our village was hit with a horrific fire this week.  The fire destroyed the front of the Sag Harbor Cinema, a beloved institution.  The flames spread to adjoining stores and the apartments above them.  Fortunately, there were no fatalities and our incredible (and entirely volunteer) fire department did a masterful job of containing what could have been a far worse scenario.   That's of little comfort to those who lost their homes and businesses. But we will rise again, we have no doubt.  And the spirit of Christmas has been apparent all week as townspeople have vowed to rebuild and help their neighbors out in their time of need.  We will do our part too.  One of the great things that's been going on in Sag Harbor these last few years is the number of houses that have been restored and rebuilt, always with an eye to preserving the character of our beloved village.  And one example can be seen right here.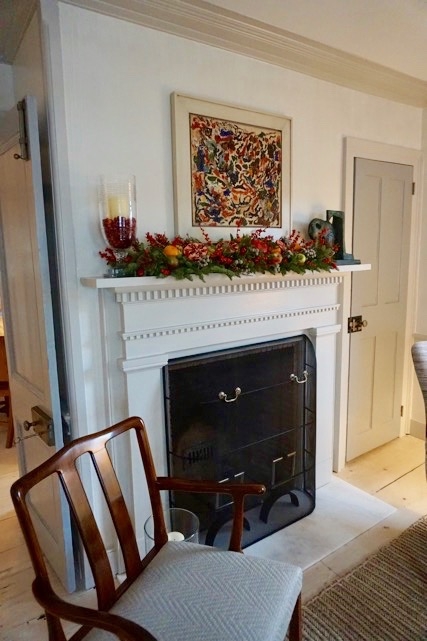 In this beautifully restored home, our goal was to make it look as if we'd never been there.  Seriously!  We wanted to make our Christmas decorations to look for all the world like the owners had done them all by themselves.  Above, how to decorate a Christmas mantel using fruits and fir branches. The stunning modern painting above the fireplace was our color inspiration for this mantel piece.  We've used some red Ilex berries to bring Christmas color to our apples, oranges and pomegranates. Cranberries were used to cradle a candle bringing a note of seasonal color to the mantel and anchoring the candle in place.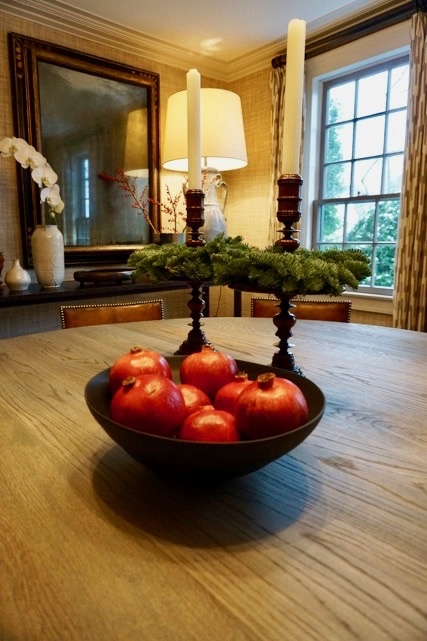 In keeping with our theme of "Less is More", a bowl of pomegranates sits atop the dining room table while two wooden candlesticks are decked out with fir branches to create a red and green theme.  In the background, a stem of white orchids and red Ilex berry branches complement the side board.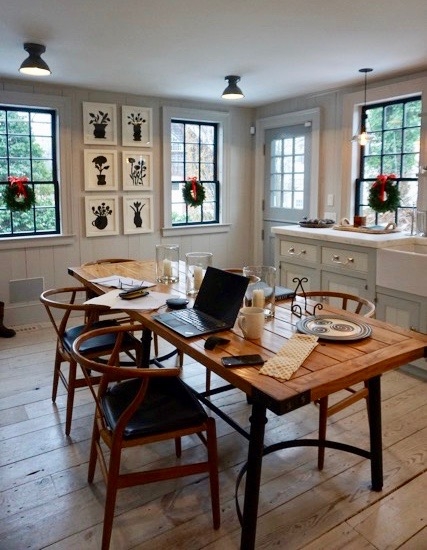 In the beautifully windowed kitchen, small wreaths placed in every window bring holiday cheer to the room which doubles as a work space.  Looking up from whatever task the owner is doing is a little reminder that it's Christmas.
A Hypernicum Topiary is all this sitting room needs to say it's Christmas. This simple punch of color is just what this beautiful space needs.  We really tried to make these holiday decorations look as if they were done by the homeowner herself.  But our client insisted her friends would know better!  Merry Christmas one and all!