We love to pull out all the stops when it comes to decorating mantelpieces for America's homegrown holiday, Thanksgiving!   It seems only natural to show an abundance of objects symbolizing our bountiful harvest.  Today we will show you to three mantlepieces we put together just for Thanksgiving.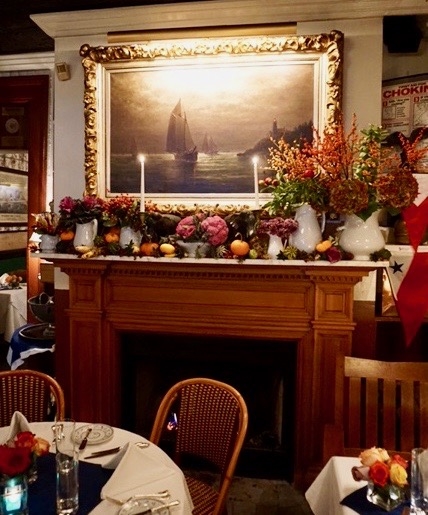 The first stop on our tour of Thanksgiving Mantelpieces is at The American Hotel in Sag Harbor.  The hotel has a long and proud history dating back to 1846 when the town of Sag Harbor was one of the great Whaling ports.   The hotel, and the town, fell on hard times and in 1972 The American Hotel was badly in need of repair, hadn't hosted a guest since the 1930s or served a meal.  That's when owner Ted Conklin took over and brought the place--and with it, the town, back to life.  The newly restored American Hotel served its first meal on July 4th, 1972.  And it's been serving wonderful food and great wines ever since.  Because of its whaling past, the hotel is decorated with great maritime art. The working fireplace in the Dining Room Bar is showplace for one of the hotel's collection of paintings.  We packed this mantelpiece with a cornucopia of locally grown gourds, pumpkins and even cauliflower and brussels sprouts for color and texture.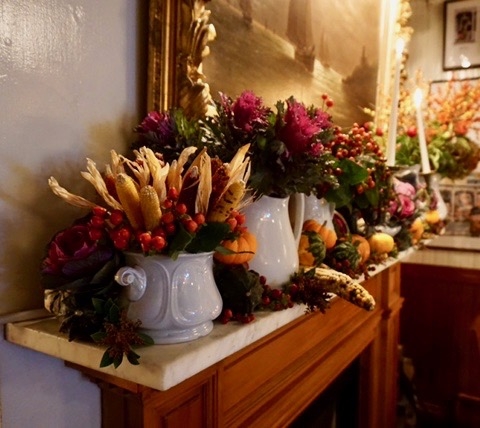 The Bridgehampton Florist is a treasure trove of Ironstone pottery.  You'll find dozens of examples of this British import which was first introduced in 1813 in Britain.  Ironstone was a mass-produced alternative to the more expensive porcelain. There is no iron in Ironstone. The name came from its strength and durability.  When it was brought to this country, Ironstone pieces endured many a wagon train journey without a scratch.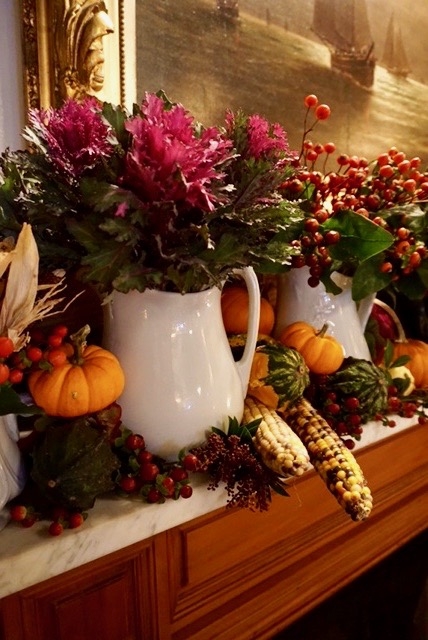 Aside from its durability, Ironstone also boasted being so strong that it allowed for the creation of larger pieces than porcelain could be made into.  At the Bridgehampton Florist, you'll find a large variety of Ironstone pitchers all of which make spectacular vases.  Here we've used Oriental Kale in one and Rose Hips in another.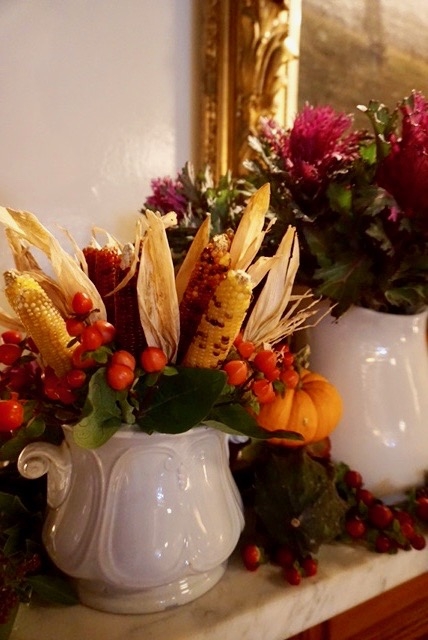 Here an Ironstone container is put to beautiful use by filling it with miniature cobs of Indian corn and Hypernicum berries, which are local to the Hamptons.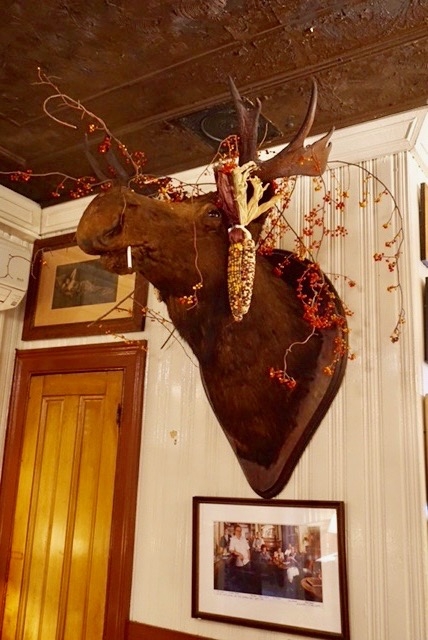 Even the American Hotel's Moose Mascot in the Hotel's Bar gets some Thanksgiving glamor in the form of bittersweet boughs and Indian Corn "Earrings".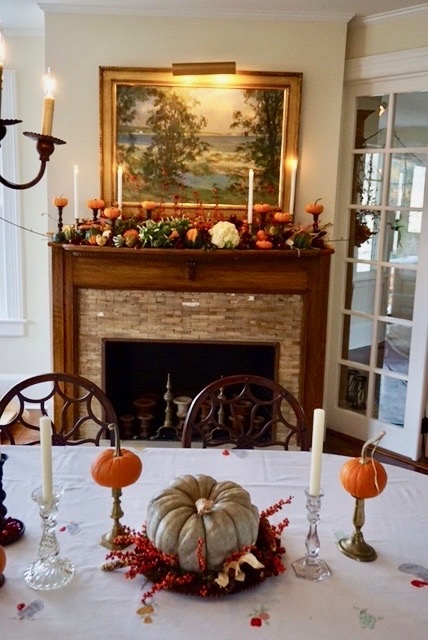 For a client who loves candlelight and candlesticks, we created a pumpkin themed mantelpiece to salute Thanksgiving in the dining room itself.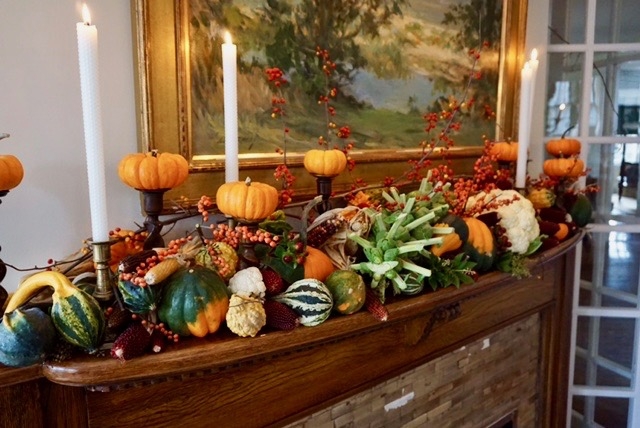 Multi-colored gourds are combined with bittersweet and the unexpected: Here we used Brussels Sprouts for color and their unique texture and yes, that's a head of Cauliflower...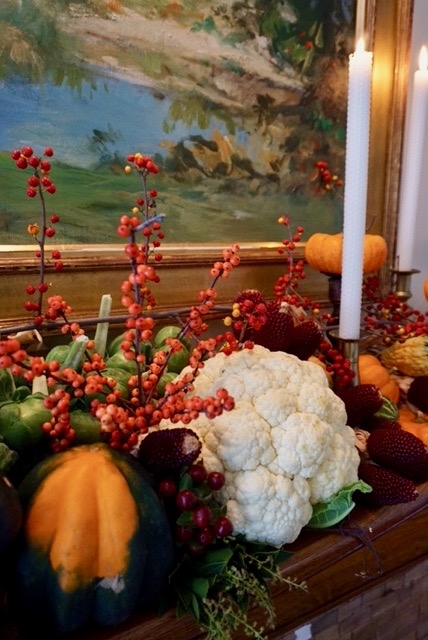 For our final Thanksgiving Mantelpiece, we worked around this fireplace surround's permanent feature.  An Asian Gong adds a completely different feeling to this arrangement of bittersweet boughs and a selection of  gourds chosen for their warm yellow tones to complement the tiles that surround the fireplace itself.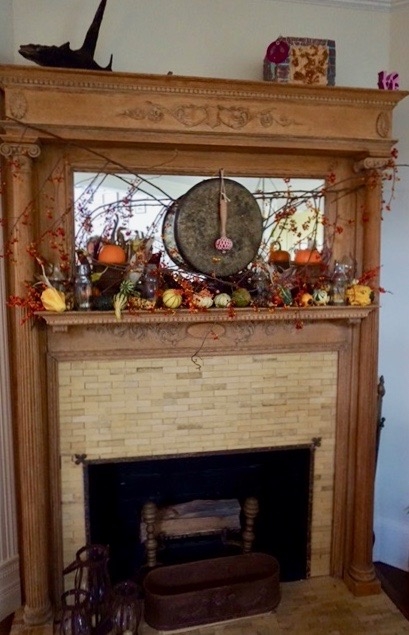 Whatever you chose to do to celebrate Thanksgiving, bring along your imagination. Visit your local farm stand, take a walk in the woods and bring back treasure to create your own celebration of this most American of holidays.  Happy Thanksgiving everyone!