Flowers at the entrance of a house say a world about who lives there.  They're the first thing your guests will see and they set the stage for the rest of the house.  They  can complement or contrast the decor and architecture of the whole house. Our clients' homes represent a great many styles and color schemes so we treat each arrangement to a highly personalized treatment.  Some of our clients have very definite ideas about what they want, others leave the imagination to us.  Here are some recent examples of flowers that truly make a Grand Entrance.

The Eremerus, or Foxtail lily is one of nature's most spectacular flowers.  In the corner of a foyer dominated by a flying staircase, just 8 of these beauties brighten and fill a void almost under the stairs.  The flowers are the stars of the show in the simplest of glass vases.  These flowers gradually open from the bottom of the stalk to the top so for days and days you'll have this ever more flower-laden arrangement.   To preserve these and all our foyer arrangements, as well as to keep the water clear and clean, we add a couple of drops of household bleach.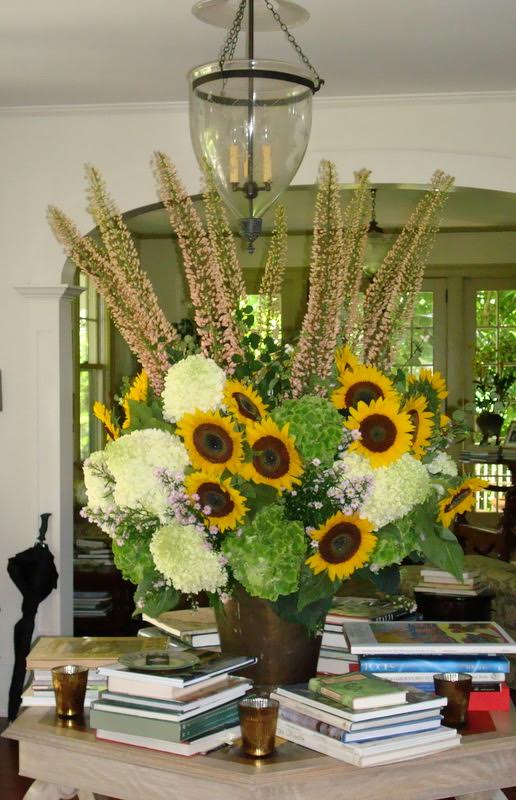 Front and center on a foyer table laden with books, this arrangement goes all out.  Here, Eremerus is paired with two different hydrangeas and a plant I am particularly fond of using,  Wild Aster or Monte Casino, sometimes called "September weed". The plant grows wild in the Northeast coming into its own in, surprise, September.  And who can resist Sunflowers, which are an all-summer flower here from June to October.  They are one of those flowers that cannot help but bring a huge smile to my face every time I see them.  Properly watered, this arrangement will keep for at least a week.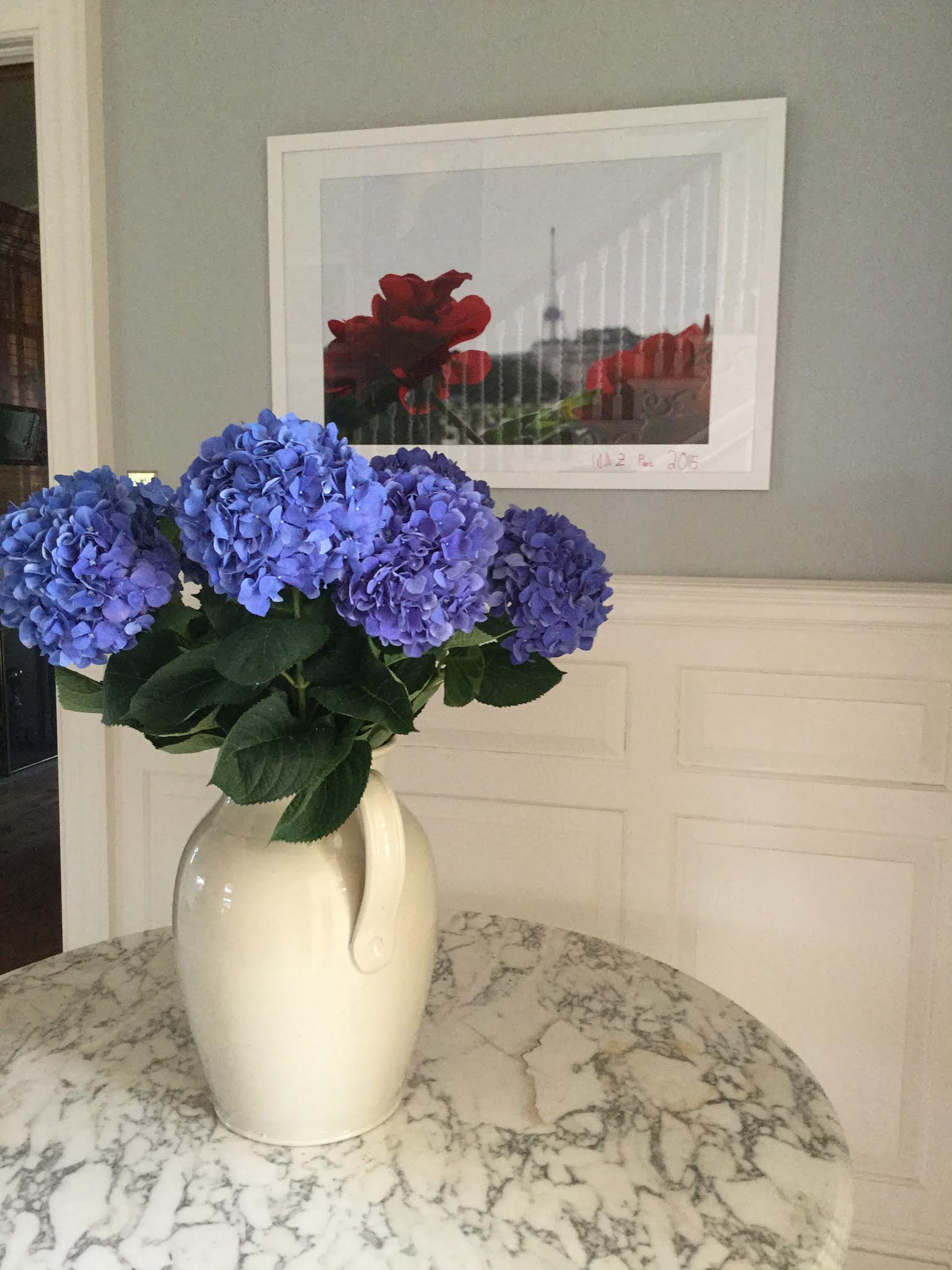 Simplicity is called for when flowers of two kinds dominate a foyer.  There are the flowers on the wall--in this photograph of Paris--bright red and brilliant.  Not to be outdone, we chose on single shade of lavender blue hydrangea.   Hydrangeas are so popular with our customers that we stock a wide range of the flowers in a multitude of colors.  The container we chose is in itself a work of art with its beautiful curved handle and reflective white surface.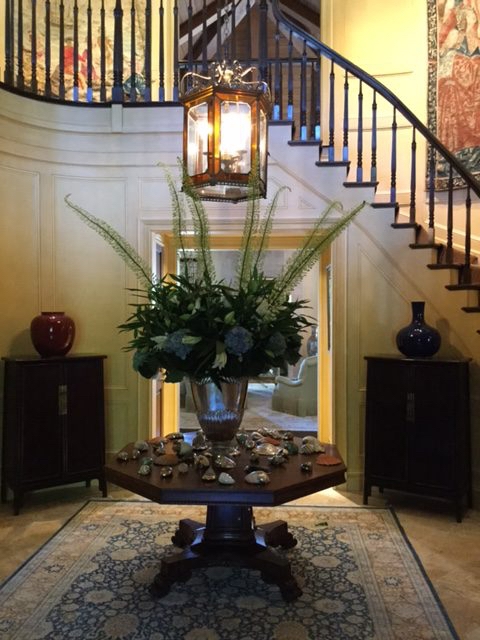 Finally there's this piece de resistance.  This beautiful traditional home with its tapestries lining the staircase and upstairs landing gives us the opportunity to really outdo ourselves.  This is not a case of 'less is more".  Here, "more is more".  We use stalks of Eremerus for height while a profusion of white Casablanca lilies and blue Hydrangeas fill this family heirloom container.  A collection of shells on an octagonal foyer table complete this stunning vignette.