July 16, 2015 in Michael's Blog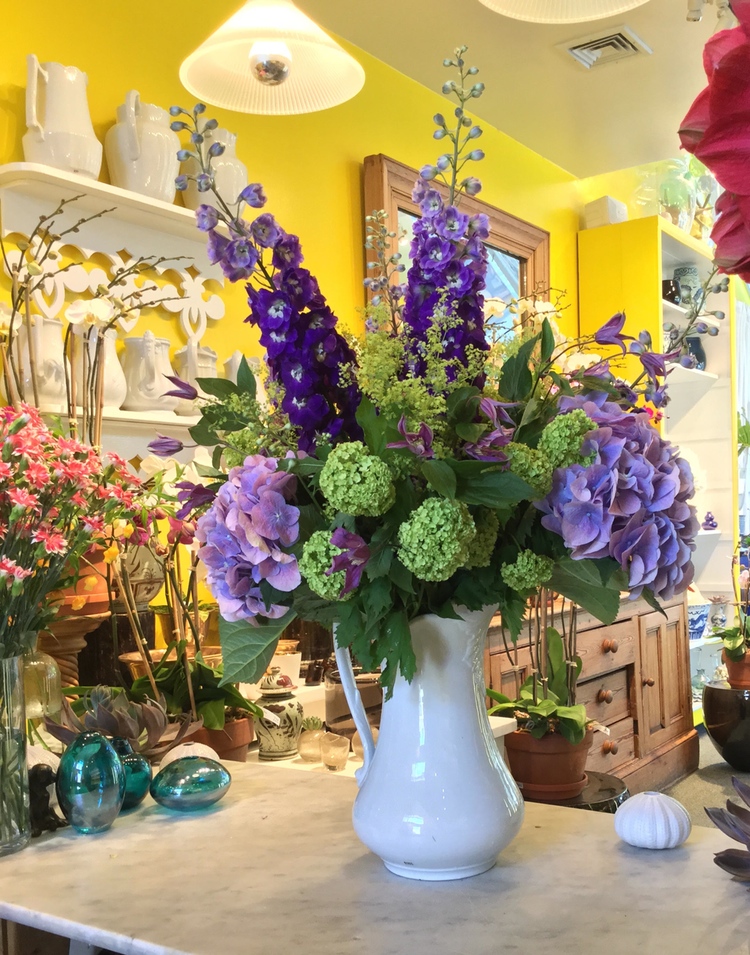 Talk about Tradition. One of our customers has come into the shop every year for years and bought his wife one of the pieces of Ironstone we stock filled with flowers. We carry several sizes, from smaller pitchers to the largest sizes. His wife's collection has expanded to the point where she really has an outstanding collection thanks to her husband's thoughtful gifts.
If you'd like to start a tradition or just latch onto your own piece of porcelain history, do drop in and see all the great options we have at prices that are considerably lower than you'll see anywhere else.
I have been collecting ironstone pitchers for 20 years.
A Little History on Ironstone
Ironstone china as we know it was first patented in 1813 by Charles James Mason in Staffordshire, England. It was an improved china harder than earthenware and stronger than porcelain.
Mason's patent lasted only fourteen years, and by 1827 a number of other potters had already experimented with his formulas. All of these wares were decorated with transfer patterns or brush-stroke designs. Occasionally an undecorated piece would find its way out of the factory, possibly because it was flawed in some way.
Ironstone Goes West
In the 1840's, England began exporting the undecorated wares to the American and Canadian markets. The English potters discovered that the "Colonies" preferred the unfussy plain and durable china. Specifically, it was 1842 when James Edwards marketed the first white ironstone china in America.
Late in the 1850's and into the 1860's huge quantities of china were sold to the agricultural communities and called "thrashers' ware." These dinner, tea and chamber sets were embossed with wheat, prairie flowers and corn in order to appeal to the farmers, who had to feed all the people that helped with the harvest.

Ironstone Today
Little of this plain embossed white ironstone could be found in England until just recently, when a staff member of the City Museum and Art Gallery of Stoke-on-Trent visited the U.S. He purchased several pieces which now reside in the Museum.
This is obviously an oversimplification of the history of English white ironstone in America. There is also the advent of American ironstone manufacture but that's another story. WICA's newsletter, WHITE IRONSTONE NOTES, will cover this history and all the patterns and pieces as we go along. Won't you join us on this journey of discovery?
Here are a few pictures of my collection.