We are planning to have fun! We'll show you everything from how to do easy tablescapes to flower care that makes your flowers last. We'll take you to all the fun events we're a part of. We'll sneak you into photo shoots like the one we're doing this week: The Holidays at our good friend Christie Brinkley's house. And of course, we'll take you behind the scenes and onto the set of "
Barefoot Contessa
" Ina Garten.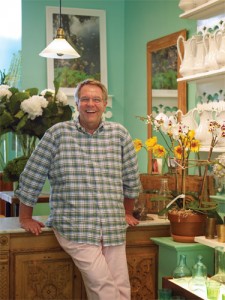 Jim and I opened the store 28 years ago. So we'll never run out of photos to share from our archives. We'll show you everything from fun moments at
The Hampton Classic
to our 22 years as
Bay Street Theatre
sponsors. But this isn't all about us. Let us know you thoughts,
ask me questions
. Tell me what you want to learn. I'll do my best to answer every one. Check in weekly for our latest blog update. Or better yet, subscribe to our blog so you never miss another issue.