December 5, 2014 in In The News
Source: Hamptons | December 2, 2014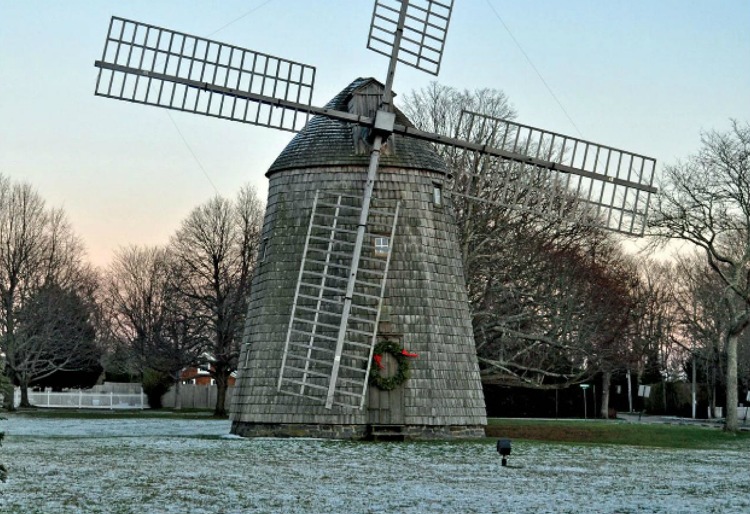 As coproprietor of The Bridgehampton Florist, Michael Grim appreciates the care that goes into decorating the East End's many windmills.
Now that the craziness of summer is over, we can enjoy the slow changing of the seasons–the light shifts, summer fades into memories, and we move into the peaceful winter ahead. I love how there is something to look forward to every season, like the lifeguard chair being set up on Long Beach to mark the beginning of summer or the pumpkin stands that remind us that fall is coming. What I look forward to most at Christmas are our decorated historic windmills. I love how their lights make them dance and announce the arrival of a festive season ahead.
We have 11 windmills in Suffolk county alone, most of which were built in the early 1800s. Our local windmills were build in the smock mill style, named for their resemblance to a baker's smock. It is so wonderful that most of these treasures have been lovingly restored and are very well maintained.
With a business that has put up countless lights and wreaths, I can really appreciate the time and effort the village puts into adorning these beautiful landmarks. With the Hamptons being largely a summer community, there isn't the usual amount of lights and decorations that common in other towns–especially compared to my hometown in Pennsylvania, where people decorate the inside of their kitchens cabinets! It's so wonderful to see all the trimmings in the villages. Christmas here reminds me that there really is no place like the East End. – Michael Grim